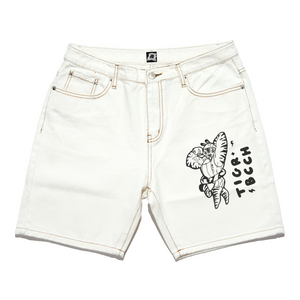 "TIGERA GIRL,TIGERA SURF" PIBMO X KIRU MADE COLLABSTORE

合作 (Gassaku - Collab) 店 (Mise - Store).

Made-to-order Apparel produced and delivered from South East Asia. Curated artwork by Kiru Made partner artists worldwide.
Materials:
Made of 100% Cotton Chino.
Handmade, Cut-and-Sew, Utility Pocket.
Side-seamed and tapered for a better fit.
High quality digital print.
Designed for unisex wear.

Body-fit Sizing Information:
S: 165cm or 55kg (Waist 30")
M:  175cm or 70kg (Waist 32")
L: 185cm or 85kg (Waist 34")

Care Details:
No tumble drying. Non-chlorine bleach when needed. Cool Iron only.

Key:
Tiger

Wear with us.
着るまで Kiru Made
Made for Wearing People